The SENSOMAT pneumatic screwdriver series with mechanical clutch-function is especially well suited for applications such as:
Sheet-metal assemblies
Wood assemblies
Self-drilling pass-through screws
The SENSOMAT was especially designed for applications where the driving (thread-forming) torque is close to – or even higher than – the seating torque. This could be the case, for instance, with thread-cutting, thread-forming, or self-tapping screws.
As with other pneumatic screwdrivers, the SENSOMAT initially drives the screw with full motor power. However, shortly before the screw is seated the driver engages the clutch, thus enabling the screwdriver to shut off at the preset torque. The screw thus becomes seated without being stripped or otherwise damaged.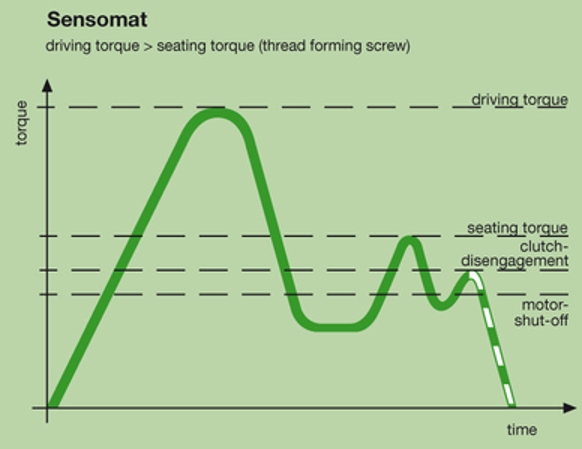 A further development of the MINIMAT screwdriver series, the SENSOMAT incorporates a highly accurate shut-off clutch that achieves high torque accuracy of less than 3% standard deviation. When operated under suitable conditions, DEPRAG pneumatic screwdrivers with shut-off clutch achieve a Cmk value ≥ 1.67 with a tolerance requirement of 15% in relation to six sigma (per ISO 5393). A Cmk value of 1.67 equates to a failure rate of only 0.6 per one million screw assemblies.