The AST12 sequence controller is intended for use with the new DEPRAG Plus series of screwdriving systems. This series is made up of both handheld and fixtured screwdrivers.
Torque Range: 0.03 Nm-4.2 Nm
Screwdriver design: either handheld or spindle screwdriver
Maximum number of programs: 1000
Industry 4.0 interfaces: REST, OPC UA, MQTT, FTP
DEPRAG Cockpit as your central user interface in responsive design for parameterization, visualization, and documentation
DEPRAG Plus is the future of Screwdriving Technology
The screwdriving system DEPRAG Plus ensures the highest flexibility and can be used as a central platform for both handheld and spindle screwdrivers. The system is extremely versatile in the face of changing assembly requirements. It reduces the need and expenses of training, and the AST Manager provides intuitive operator guidance.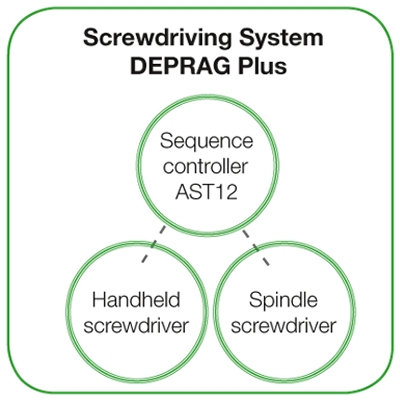 Please visit our five top sequence controller products for more information.